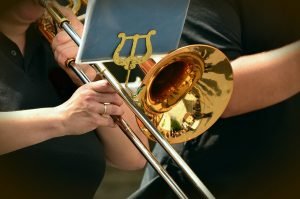 There is quite a bit of debate going on now about the lack of free music lessons. I won't go into detail as there is a lot on the web that you can easily find, but the general gist is that some schools will stop giving free music lessons and others are charging for them, which means that families on a low income can't afford for the kids to learn an instrument.
My business is in music and without my free lessons at school, I doubt I would be here now, running my business, writing music and playing the trombone.
The shortage of players and the lack of tuition
The instrument I learned to play at school was the trombone. Once I left school I played for 7 years, but then took a 24-year break from playing the trombone while exploring other musical styles. However, in 2016 I joined the Flixton Community Band. Lucky for me they were around otherwise it would not have happened. Then in 2017, I rejoined my old band, the Ashton-on-Mersey Showband. I am now enjoying it more than ever, and (for me) none of this would have been possible without free lessons at my secondary school.
A lot has changed in my 24 years trombone break. The main things I have consistently heard since my return to playing is that there is little or no music tuition in schools and that there is a shortage of [insert instrument] players.
It is clear that brass bands or playing a brass instrument is not as popular as it used to be. You could put this down to it not being 'cool' but it could also be down to the fact that there is a lack of tuition in schools and that young people are far less likely to be exposed to live music performed by brass bands and wind bands.
With a lack of school-based opportunities, the only option seems to be private tuition or help from organizations like the Flixton Community Band, which is great if you have one local to you, as they will provide instruments and tuition for a relatively low cost.
I was lucky…
At the age of 11 I went to secondary school and heard a brass band for the first time. It was the Bradbury Boys School band and I was amazed, intrigued and in awe. I put my name down to learn an instrument. Soon after I was meeting Mr Charlie Holt, the brass teacher who came in and gave one-to-one lessons twice a week.
I remember it well. He handed me a Cornet (not an ice cream) and told me to try and get a sound out of it… nothing… he handed me a trombone and said try this… an awful farty noise like a cross between a screaming elephant and wicked flatulence blurted out of it. He said, keep that one, that is yours now.
He then said… Do you like hard work? This will take practice every day in order to get good enough to play in a band. Are you prepared to do that?
I said yes, and had my 15-20-minute lesson each week. Charlie became a great mentor and I even kept in touch with him for many years after leaving school.
The upshot is, taking these steps helped me to develop my music and sound skills, and I now run my own music licensing business and compose and produce my own music. This would not have happened without learning to play trombone, and without music lessons being part of the school curriculum.
Not only that, the friends and experiences playing with a number of bands, mainly the Ashton-on-Mersey showband over the years have enriched my life so much. I have had some great experiences and great fun playing the trombone.
If the world of education is going to let this slip away, so many people will miss out in the future. Learning to read music and play an instrument can change a person in so many positive ways and I for one do not want brass (or any other instrument family) to die.
A possible solution?
Private tuition can be costly, but you can't knock tutors for needing to earn a living. That is their job. However, if you can't afford it and your child's school will not provide it you are a little stuck.
So… how about all of us who play an instrument, teach at least 1 new person to play? I don't know how many musicians there are in the UK, or the World even, but can you imagine if we all did this, numbers would double in a couple of years and if it kept happening perhaps we would see more live music around us in the future. This would probably create a perpetual cycle as it would generate interest from even more people wishing to learn. There would be more players and bands being heard in public.
Yes, I know… the government, moan, moan etc. but if they are not going to do it, and there has already been a big decline, shouldn't us musicians act now? What is stopping us from sharing our knowledge? Why should we wait until they really screw it up!
Action not words
Okay, so I have said this now, it is time for me to make a commitment. In the interest of keeping brass alive and passing it forward, I am happy to teach at least one other person to play the trombone in my local area. Not just limited to school age, young or old as long as you are keen to learn.
If you can afford a professional tutor, please use them as I don't want to take their work, however, if you or your kid is missing out due to financial restrictions I would be happy to teach you to play the trombone.
My terms:
Currently looking to teach 1 person who is keen to learn
I only teach trombone
This is for low-income families only… Okay, I am not going to check your bank statements, but if you drive a BMW and drink champagne I may say no 🙂
You must be local to me, (J9 of M60), I will come to your house for the lesson
It will be a 15-20 minute lesson (most weeks subject to my availability).
You must practice in between, most nights
You must be prepared to buy or rent a cheap trombone (I can point you in the right direction or lend one for a short time).
A parent / guardian must be also present for the lesson
This will be based on my availability and please keep the words of Charlie Holt in mind…
Do you like hard work? This will take practice every day in order to get good enough to play in a band. Are you prepared to do that?
Musicians of the UK… Is this a good idea?
If you are a brass player and agree, and want to join me in this offer, get in touch. Or if you are a community band and want me to link to you, get in touch too. Depending on the interest generated, I would be prepared to create a directory of tutors and groups. Possibly a Facebook group too.
This section is now in development… see it here
Also, please share this post on your social networks