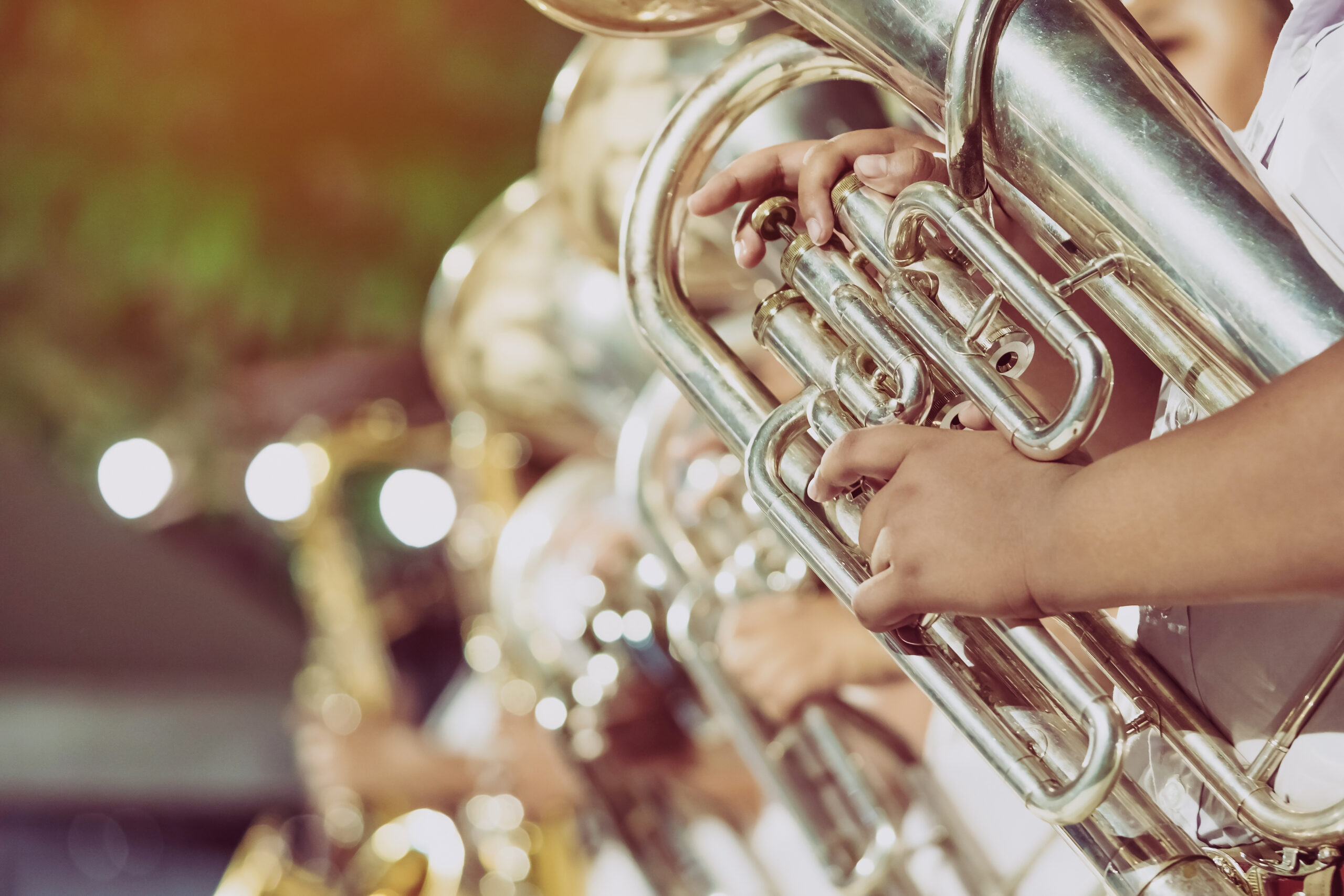 Location Recording for Brass Bands
Covering North West of England & North Wales
Historically, my background is in live sound and studio engineering, spanning back to the 1990s. This included working on the entertainment circuit around the UK. I also gained a HND in Music Technology at City College Manchester. I learned a lot and gained invaluable experience as a live sound engineer, but I wanted to get away from the late nights and smokey clubs so I worked my way into composing music and audio production.
However, I am dusting off the old microphones (classics!) and offering a limited number of location recordings for Brass Bands. I have a few recording slots per month offered on a first-come-first-served basis.
The following demo is a two-microphone live recording, courtesy of Flixton Community Band, Recorded 2023.
How Does it Work?
I will record the band's performance at your venue with a multi-microphone live recording setup, utilising up to ten mics.

Your Venue
The live recording is done at your location. This can be your rehearsal room or a venue you have hired.

The Process
I will record the band live at your location. The mixing and mastering will be done in-house.

The Booking
Get in touch to discuss your requirements and to secure your band's recording session.
Your Venue
You must have access to a suitable venue for the recording session. This can be a venue where you regularly rehearse or one that you hire for the purpose of live recording. Please bear in mind that the venue acoustics and any external sounds around the venue will have an impact on the recording. Ideally, you should avoid venues that have heavy traffic noise nearby.
I recommend that all phones be turned off while recording, not just on silent because they can still cause electromagnetic interference. I also discourage spectators as they have a tendency to chatter, use their phones or just generally move around at inopportune moments.
Chairs need to be considered too. There is nothing worse than a squeaky chair during a recording. Stands need to be rattle-free and not vibrate every time the tuba hits a pedal note for example.
Band members need to consider their 'personal' noises. Aside from the obvious involuntary actions such as sneezing and coughing, other actions like inhaling excessively loudly, emptying water keys loudly or fiddling with instruments during the recording should be discouraged. I also recommend that performers bring some snacks and enough to drink because even stomach rumbling can cause audible noises during a recording. The microphones I use are very sensitive.
The Process
This will be a live recording with the whole band playing simultaneously. It is not a studio recording with overdubbing of individual instruments/sections. With this in mind, there are a few factors that you need to consider.
There will be up to ten live microphones strategically placed around the room. The band can play as many times as needed, but if there are any mistakes there is no means to do overdubs in a live recording; you will have to play it again. If there are clean section breaks, for example, several movements in a piece, it may be possible for me to splice two good sections together. I will guide you on the day.
Recording Day
I will arrive at your venue 45 minutes in advance to set up. The chairs and music stands should already be in place. This way, when the band arrives we can get straight on to the sound check. My allocated recording time is 2 hours per session. This allows enough time for band members to have breaks in between pieces. If you require more time, we can discuss that when you book.
I will need to do a sound check with the band before we start. This involves me checking sound levels and microphone positions while the band plays. When I am happy with the microphone placement and tonal balance, I will ask the band to do a second test recording. I will then ask the band leader to have a listen through the headphones. Once everything is sounding good, we will start recording your set.
I will use a combination of professional studio condenser mics, dynamic mics and ribbon mics. There will be a stereo microphone array set up in front of the band and various spot mics on selected instruments. This will provide me with more balance control when it comes to mixing. I will use up to ten microphones to provide good coverage of the band and it will help get a fuller sound when mixed and mastered later. The number of microphones used and their placement may vary dependent on your requirements.
Mixing & Mastering
After the recording session, I will take the recording away and mix it in my private studio. I will send you a rough first mix so that you can hear the result and select the takes you want to keep.
I will then do the final edit and mastering before delivering it via file transfer for your approval.
You can also request the stem files too at no extra cost. Always good to have in case you want to remix and remaster it in the future.
The delivery will be a digital download in the format of your choice.
Guide Prices
The service is only available within a reasonable travelling distance of Urmston, Manchester. The rates below include a 60-minute roundtrip in the price. Additional travel time will be factored into the quote at £40 per additional 30-minute of travel time. The table below gives you an idea of costs, but for an accurate quote please get in touch via the booking enquiry option at the bottom of this page.
The Standard Session equates to about 6-8 hours of time when you factor in travel, setup, editing and production time. The actual recording time is typically 2-3 hours.
| Session | Cost |
| --- | --- |
| Standard Session – 10 mics | £595 |
| Lite Session – 2 mic Stereo | £350 |
| Full-Day Session – 10 mics | £995 |
Multiple full-day sessions can be quoted for upon request. Please select this option when completing the booking enquiry form.
Please note: Prices and availability may change at any time. Bookings already confirmed will be honoured.
Brass Bands Recording FAQs
Ready to Book?
If you want to secure your session or have any questions not answered above, please use the form below.
You may be interested in: