When you tell people you are a composer they often don't understand what that entails. This is fair enough as the term composer traditionally involves scribbling notation on a manuscript. Things have changed a lot since then and being a modern-day composer is very different. It involves sitting at a screen with software and music and notation is not something most modern composers deal with.
Being a composer covers many aspects of work, but this article aims to give you an insight into my life as a composer.
I try to spend most of my time working on music in one form or another. Whether that be creating it, mixing it or editing it. The rest of my time is spent working on other digital media projects for clients. Music is my passion and my goal is to create a library of music for media creators whilst creating a sustainable full-time income from composing music.
As a composer, I have to come up with musical ideas, play or program them on my computer, then mix, master and format them ready for release.
Oh, the Glamour!
When you tell people you are a composer, they think it is a glamorous job, nice work if you can get it! It is probably true for the small minority, but for most, it is hard work with long hours. It is extremely satisfying doing something you enjoy, but it can be frustrating at times too, and not as lucrative as you might think. The work does not just land in your lap; you have to pursue it!
For most composers, it comes from having a passion for creating music and working relentlessly until we can support ourselves financially. For the vast majority, it is not a case of getting that hit and sitting back while royalties flow in.
Composing music is a real lifestyle choice where you sometimes have the best job in the world (pictured in your studio smiling), whereas the reality is that you will often be sat staring at a screen listening to the same track hundreds of times. Often working into the early hours of the morning until everything sounds right before going to bed with it running around your head.
The sector I work in is stock music. This is where you create a variety of tracks and put them in as many music libraries as possible. The idea is that people will find your music and pay a license fee to use it.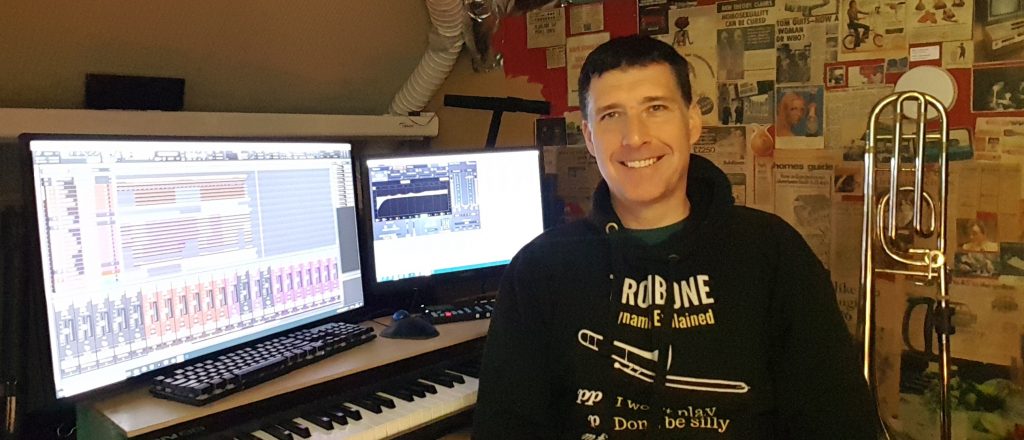 It is tricky because you need a good number of tracks. Spending several months perfecting a piece of music is not an option. You have to create music as quickly as you can whilst maintaining a level of quality. The more good music you have out there, the more chance your tracks have of being found and licensed.
It used to take me about a week to make a track, however, now I am able to do it in 3-4 days, but ultimately I would like to get to a point where I am doing 5 (or more) tracks a week. In reality, I need to be faster and better. I am still learning and always will be. It is a cliche but true, becoming a great composer/producer is a journey, not a destination.
A variety of genres is good too. However, the reality is, as a composer you will naturally have genres that you are good at and some not so much. Currently, my direction is corporate music, chill, low-fi beats, orchestral soundtracks, but moving into EDM and Urban beats too.
Fans?
I don't really have a fanbase. This is not a bad thing, it is just the way it is with writing stock music. Often, people think I am in a band, or trying to 'hit the big time' like a mainstream artist. If I had £1 for every time people have said "you only need one hit" I would probably have paid my mortgage off and bought a holiday home 🙂
I do have some people that follow what I compose, which is great. It is nice to get feedback and praise on my music, but I am not doing it for the adulation or recognition, I am doing it to add to my library portfolio. For this reason, it is inevitable that people like some tracks and dislike others.
I don't mind what people think about my music, it is subjective, a matter of opinion and relative to the context. My primary aim is to write, mix and produce music to the best of my ability; music that people can use in their videos, film, TV production and other media projects. If people happen to enjoy listening to some of my tracks, then that is a bonus.
Talented?
I am a modest person so don't really think about it much. Praise is nice and appreciated, but it is not the reason I compose music. Whether it is a talent, something you are born with or something you learn, I am not sure. I don't know where the desire to create music comes from I just know that it is in me. When I do it, I feel great. When I stop, it feels like something is missing.
The truth is, whenever you hear anything I have worked on, it is typically 10% inspiration and 90% hard work. I don't think I am special, I just work hard at it. I think that anyone who wants it enough and is willing to do the graft will be able to do it.
The problem is, people only hear the result, usually a 2-3 minute piece of music. This can be impressive (or not), but they don't really think about the many hours of work that went into bringing it to life and the many years of learning and experience involved. Some people may think they can use the music without your permission or complain about the cost of licensing it, but they don't consider the many hours that have gone into creating it.
The Changing Music Library Industry
In a world where music is a much-valued aspect of nearly all visual media, there is a sector of the industry that supports and respects the talents and livelihoods of composers, but also a movement of low-cost, stack 'em high businesses that don't have the interests of the composer at heart.
Due to disparity in the industry, these are challenging times to be a composer and to run a music library. It can often be confusing for the user with a bewildering array of licensing options. Some libraries pay out pennies to the composer and others pay a fair price. For the user, prices start from low to prohibitively expensive. It is no wonder that many are confused about music libraries, licensing and the value of music.
From my experience running and setting up MediaMusicNow in 2005, I understand that low licensing fees do not make for sustainable businesses, whereas higher fees attract fewer, but more lucrative sales. Low fees starve the supply chain (the composers) so the trick is to balance it so that music is sensibly priced to achieve both objectives. Composers are the true life force of this industry and speaking as one of them, we need to be able to live comfortably whilst creating new and wonderful varieties of music for the world to experience and use.
Opportunities for New Composers
When I started 20 plus years ago, and probably the main reason I had a massive gap in creating music, was the fact that everything was really expensive. If you wanted to have the right hardware and software you had to have a lot of disposable income.
Today, the barrier to entry has been drastically lowered. For example, if you have a reasonably powerful computer (most people do) you can use a lot of free software. I will be sharing some of these in future posts.
In addition, you can learn about almost anything online now, especially with YouTube. There are tutorials available for free on almost every aspect of music production and composition. You don't necessarily need a college course.
There has never been a better time to create music. In addition, the web creates many opportunities available to anyone who is prepared to put the time in. If you are interested in getting into composing, mixing or production, see my article 8 Things You Need to Know to Start Making Music
Making music is much more accessible these days, but there is a lot of competition out there and it is still hard work if you want to get into it. You have to have a real passion for it, an obsession even.
My Music Goals
I want to make stock music affordable to a range of users whilst maintaining the commercial value and quality of the music. I believe this is possible, but contrary to what some might think, the answer is not one price for any use. To make this industry work long-term and to keep composers creating, there have to be fair prices for smaller users and higher fees for businesses, TV and advertising. I also want to progress into bespoke music commissions for film and TV.
I have been working on MediaMusicNow since 2005 so understand a lot about the music library business. However, back then the music was mostly contributed by other composers. I had very little up-to-date equipment and my time was going into building the business rather than writing music. It is now ticking over nicely and although I am still working on it, I am trying to spend more of my time creating music I own.
With the abundance of new music libraries, it is essential to own the rights so that you can distribute the tracks to them. I am also hiring ghostwriters to help create a stock of music I own. To keep this separate I have a new website called BeanstalkAudio.com.
On BeanstalkAudio, I have structured prices to suit many budgets. For example:
Student Scheme – Free for film and media students
Personal Users – Limited license for those making videos for fun – From £1.63 per Track Pack
Vloggers – Designed to provide a fair and affordable option based on income generation – From £2.73 per Track Pack
Businesses – Business project types such as corporate videos, presentations etc. – From £21.98 per Track Pack
All Track Packs include the main track and numerous versions that can be looped to make the music fit into your production. All music is instantly downloadable in a high-quality 24bit wave format. If you are a business user, broadcaster or advertiser, prices are staggered based on your usage. As I have ownership of all of the rights I can also do a deal for those on a tight budget.
Making Money
There has never been a better time to be a composer, which is great, however, there is massive competition. You can make money from creating music, but if money is your main motivation there are other much more lucrative and easier ways to make money.
You have to explore and adapt in order to continue generating revenue. The way you make money with stock music or royalty-free music is unusual in the fact that you spend all of your time working on it and distributing it for no money. You then rely on people buying licenses to use it. This happens as a trickle at first. Some tracks will get licensed and others won't. The aim is for it to grow over time as the number of your tracks increase. This is the reason you have to be prolific and the reality is, you will not recoup the time spent as a monetary income for quite some time. However, the good news is that your income keeps generating in the form of royalties long into the future. In fact, 70 years after your death. This means that you can leave your copyrights and royalties in your Will.
If you don't like the idea of working hard now for (potential) future income, you can work on music commissions or become a ghostwriter to get paid upfront. Something I also dabble in.
Finally…
I hope this was interesting for somebody, especially if you are thinking about writing music for libraries. I hear lots of reasons why people can't get into music production, but as I mentioned above, getting access to the tools you need is easier than ever. Earning money from it is the part that is more challenging but that said, it is possible with the right attitude and work ethic.