If you need to use stock music on a regular basis for your vlogs, wedding videos, corporate videos, advertising, film, drone footage or media projects, my music subscription will be a cost-effective option for you and it will help support me too.
Benefits
By subscribing and paying a monthly fee you are helping me by supporting my creativity as a composer-producer. In return, I am offering subscribers a number of benefits detailed below.
1. Access to My Stock Music Library
The main benefit for subscribers is having pre-agreed access to my music and sound effects for use in media projects for a monthly fee. My main activity is writing music and sound design. I also hire other composers in order to grow my music library. My full library website is BeanstalkAudio.com. I am currently adding 20+ tracks per month.
2. Request Alternative Versions
Every track I create comes with extra versions. For example, loops, shorter versions, no vocal version etc. However, there are occasions when a special edit may be needed. I will be happy to help where possible, even if it is not one of my tracks.
3. Request Alterations
My tracks are created with layers. This means that different mixes of a track are possible. For example, you might find a track that you like, but there may be one drum or instrument that is not to your liking or it may clash with something in your video. I am also happy to try and create an alternative version for my subscribers.
4. Exclusive Tracks
The very nature of stock music means that other people may be using the same track. However, as a subscriber, I can offer you preferable rates on exclusive music. You or your client may want to use the music exclusively for a set period of time. The option of exclusivity is only available on pre-released new music.
5. Discount on Custom Written Music
Custom written music can be very expensive because you are hiring a composer to write music specifically for your project. As a subscriber, I can offer you some cost-effective options for custom written music.
6. Suggest a Track
I am always creating new music and I also commission new music to give my subscribers a varied range, so I am always happy to hear suggestions about what genres you would like in the library and I will endeavour to produce it for you. This helps everyone as it adds to the library and others can benefit from your suggestions too.
7. Licensing Advice
I have been involved in music licensing since 2000, primarily through MediaMusicNow. As such, I have accrued a lot of knowledge in the area, so I am always happy to try and help you with any issues that arise. Generally, there won't be any with my music, as I own 100% of the rights, but it is always good to have some backup in what is a very confusing area.
8. Direct Contact
Unlike the big libraries, you will be in direct contact with me so you can send an email or arrange a phone chat with me if you need any help or advice regarding your media project.
9. Bonus Benefit – Sound Effects for your Media Projects
As well as music, I have recorded a lot of sound effects over the years, and continue to add to them. You get full access to all of my sound effects and can request sound effects that you may need for your projects and I will do my best to help.
10. Bonus Benefit – Photos & Drone Footage
While I don't class myself as a photographer or videographer, I do have an interest in it and I also shoot some drone footage too. I have many images on Stock Photo websites and video footage too. However, you can use all of it for free as a subscriber.
---
FAQs
How much does it cost?
It is difficult to come up with a blanket cost for every usage scenario. Currently, I am looking at this on a case by case basis and varying the cost based on a clients requirements. This means there is room for negotiation and as you are supporting an individual, not just a corporation, I can be flexible about this. Get in touch with me to discuss the options hello@leepritchard.com
Where can I hear/see what's on offer?
What happens if I cancel my subscription?
I will be sorry to see you go but you're free to do so whenever you please.
The music, sounds or images you have used in projects during your subscription can continue to be used. However, you will not be able to download any new media or create new projects with previously downloaded media. You will have to either purchase licenses for the items or re-subscribe to get access.
What if I subscribe and can't find the right music or sounds for my project?
I will always do my best to help create or find something for your project. If I can't, I do also help run MediaMusicNow, which has thousands of tracks from hundreds of independent composers. I can't offer you music in the subscription deal from there as it is not my music, but I will offer you the best possible discount that I can.
Why are you offering a subscription option?
Making money gets in the way of making music. By having a regular, recurring income this helps me focus on my passion of creating music and enables me to provide you with the best music possible without having to worry about generating revenue from licenses. Music sales fluctuate a lot, so a regular income is very helpful in the pursuit of creativity.
My occupation may look like fun, and it is most of the time, but it is also hard work with long hours. The majority of my time is spent writing, producing and editing music. If you really could get square eyes from staring at a screen, I would have them for sure 🙂
Do you have a studio that I can visit?
Yes, I do have a studio but it is not open to the public. My studio is in my attic, I spend a lot of time there. Additionally, I have a laptop-based studio that I use when I am working away in my motorhome.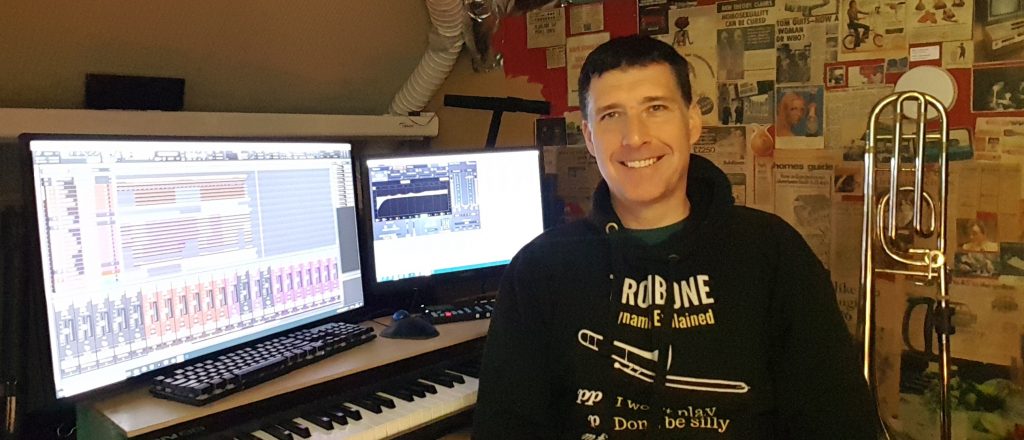 What is the composer lifestyle like?
Fast cars, expensive holidays, wall-to-wall luxury, bling… only joking 🙂
I always say there are easier ways to make money and more of it. It is a modest lifestyle, but if you love doing it, you have to find a way of doing it and paying the bills.